Guest Speakers at our Monthly Meeting
At most Monthly Meetings, we have a Guest Speaker. On this page, we will tell you about upcoming, and past Guest Speakers,
Coming Talks:
December 8th., 2020. NO Meeting... Christmas Party!
TBA
---
January 12th., 2021
Fun Meeting. Two Truths and a Lie
Some carefully selected Members will introduce themselves by stating two truths and one lie about themselves. The statements don't have to be intimate, life-revealing things—just simple hobbies, interests, or past experiences that make each person unique. The lie can be outrageous and wacky, or it can sound like a truth to make it harder for the other participants.

One at a time, each person will share their statements. The rest of the group has to guess which statements are true and which statement is the lie. We will get you to record your guesses, and then score them.
There will be two Winners. The Member who gets the most guesses correct, and the presenter who fools the greatest number of Members.
---
February 9th., 2021
Belco Arts: Dance For Wellnessgets the most answers correct, AND the presenter who deceives thee highest number of Members.
There is a growing body of medical evidence strongly validating the importance of exercise in the maintenance of our wellbeing – physically, cognitively and socially. Dance ticks all those boxes in one fun package, and with a strong underpinning philosophy of accessibility and arts for all, Belco Arts is pioneering these programs in the ACT.
We'll be getting the information, and having fun getting into the action
---
March 9th., 2021
(AGM) Speaker TBA
---
April 13th., 2021
Daniel Iglesias: Over The Hill? Not Us, Tidbinbilla Nature Reserve!
---
May 11th., 2021
Mia Swainson: How To Cut Your Household Waste In Half.
Mia Swainson is a freelance writer and consultant with a passion for sustainable living.
Her work in sustainable development, spaning more than 15 years, has taken Mia across Australia and around the world.
By making one small change at a time, Mia is proof that living a cleaner, greener and simpler life is within everyone's reach.
Mia currently lives in Canberra with her husband and three boys. You'll find her digging in the garden, biking around Canberra or working towards a local zero waste revolution with friends. Visit her websit here, and if you can't make the Meeting to hear her in person, you can watch her YouTube video.
---
June 8th., 2021
David Harding: Neighbourhood Watch: Creating Safer Communities in Canberra
The ACT Neighbourhood Watch program aims to reduce crime by encouraging the community to watch out for and report suspicious activity to police or Crime Stoppers to deter potential criminals. The program seeks to reduce crime, particularly property crimes and crimes against the community. David is Coordinator of Kambah West Neighbourhood Watch group.
David's experience is gained from more than 30 years within the protective security field, including serving in the Australian Army's Special Air Service (SASR) and the Australian Federal Police's Air Security Officer (Air Marshal) program. David is currently the Managing Director of Anshin Consulting, a Threat Management and Security consultancy that focuses on Threat Management, security, specialised training, research and advisory services. In this capacity,
David has protected several of the world's richest and influential business persons, and conducted private investigations and security operations spanning four continents. David has advised leading businesspersons, diplomats and Ambassadors on non-state threat actors, insurgents and terrorists. David is an international lecturer and trainer, and his articles and novel not only entertain, but have within them deeper meanings for security and counter-terrorism development. David has a Masters of Policing, Intelligence and Counter Terrorism from Macquarie University in Sydney Australia. David is a research associate at the Australian Security Research Centre, and a Registered Security Professional (Aust.).
Read David's Blog or visit his Facebook page.
---
Past Speakers:
February 18th., 2020
Dr. Brad Tucker: Who Demoted Pluto?
On this day, 90 years ago, in 1930, a hunt for Planet Nine led to the discovery of Pluto.
In recent decades we have discovered many more objects in our Solar System. Many beyond Pluto, and some even larger.
Over the same period, we have discovered thousands of planets orbiting other stars, called exoplanets.
So how did Pluto come to be demoted from Planet to Dwarf Planet? What is yet to be discovered?
Dr Brad Tucker is an Astrophysicist/Cosmologist, and currently a Research Fellow at the Research School of Astronomy and Astrophysics, Mt. Stromlo Observatory at the Australian National University. One of Braad's current projects is the search for Planet X. Visit Brad's web page
---
November 19th., 2019
Professor Clive Williams: Rafting The Grand Canyon
Professor Clive Williams MG was formerly the senior arms control analyst at the Defence Intelligence Organisaton- Department of Defence (DIO).
His fascinating talk chronicled his adventure, rafting down the Grand Canyon.
In contrast to the arid conditions encountered in the Grand Canyon, Professor Williams described white water rafting down Tasmania's iconic Franklin River. The contrast was that far from being arid, the climate of the Franklin River area produces weather that can we wet, 24/7 for much of the year.
---
October 15th., 2019
Elizabeth Samra: Legal Issues for Seniors
ELIZABETH SAMRA has been active in advocating for the rights of older people for almost a decade. She is currently working with Legal Aid ACT on a project to develop its elder law practice, with a focus on elder abuse and family violence, OPALS.
OPALS (Older Persons ACT Legal Service), is a specialist service within Legal Aid ACT. OPALS provides legal help to older people in Canberra. They can help with legal issues involving elder abuse, enduring powers of attorney, guardianship and financial arrangements with family members.
Elizabeth is a member of the ACT Law Society's Elder Law and Succession Law Committee and a member of the National Older Person's Legal Service Network. Prior to moving to the ACT, Elizabeth was the Principal Solicitor of a specialist elder abuse legal and advocacy service in Victoria.
---
September 17th., 2019
Michael Shoebridge: The Changing Order: Australia, the USA and China
Michael joined Australian Strategic Policy Institute (ASPI) in February 2018 as the Director of the Defence & Strategy program. Michael has worked in policy, intelligence and project delivery in Defence.
He headed the Defence, Intelligence and Research Coordination Division in the Prime Minister's department. Michael also started a new Defence Capability Assessment Branch in the Department of Finance, which provided the Finance department's assessment of all major Defence capability investment proposals to inform Cabinet decision making.
Michael led the Defence team that wrote the 2013 Defence White Paper when he was head of Defence's Strategic Policy Division. He has worked as the Deputy Director of Australia's Defence Intelligence Organisation (one of two assessment agencies in Australia's intelligence community and partner to the US DIA) and as one of the four deputies in the Australian Signals Directorate (partner to the US NSA).
He was the senior Defence civilian in the Australian Embassy in Washington during the time of the Iraq surge and the return of the Australian SAS to Afghanistan. He has worked in two Commonwealth Ministers' offices.
His role before joining ASPI was as the head of Defence's Contestability function, providing critical but constructive analysis of the projects and programs in the Government's $200 billion integrated investment program for Defence, which is the investment element of the 2016 Defence White Paper.
---
August 20th., 2019
Jenny Horsfield: The Soldier Settlers of Tuggeranong
In 1920, eight men who had served in the Great War took up soldier settler blocks at Tuggeranong, on land that had formerly belonged to the Cunningham family.
They faced years of uncertain markets, isolation, drought, weed infestation and the rabbit plague, in a decade that was to test the strongest of men and culminate in the Great Depression.This is their story.
Jenny Horsfield is a Canberra writer and historian. In early 2018, she curated an exhibition at Lanyon Homesteead- The Soldier Settlers of Tuggeranong. The stories she told of these men and the hardships they endured, has led to the publishing of her latest book, Voices Beyond The Suburbs: The Soldier Settlers of Tuggeranong. In her talk, Jenny will share some of these fascinating stories.

Jenny is also the author of 'Rainbow: the story of Rania MacPhillamy', the story of a young woman who served as a VAD in Egypt during the Great War. This book won the ACT Writers and Publishers award for Non-Fiction Book of the Year in 2008. Jenny's book, 'Building a City', about early Canberra, won this award again in 2016.
Revisit Jenny's slides here.
---
July 16th., 2019
Stephen Munro: Evolution, Migrations Of Humanity, And The Peopling Of Australia
About five million years ago, a population of African apes began to separate into two separate species: Humans and chimpanzees. What were the circumstances that led to this separation, and why are humans so distinctive, in so many ways, from chimpanzees and other primates? Moreover, what were the circumstances that led humans to spread throughout the world, and how and when did humans first reach Australia?
Stephen Munro, a graduate of the Australian National University's School of Archaeology and Anthropology, and a curator at the National Museum of Australia, draws on his own and other research to challenge some of the traditional scenarios put forward to explain these questions, and proposes a number of alternatives.
---
June 18th., 2019
Tim Mather: Climbing Mt. Kilimanjaro
Dr Tim Mather BVSc is a semi-retired veterinarian recently arrived in Canberra after a career in WA. Currently on track veterinarian for Canberra Harness Racing Club, previously on track veterinarian for Canberra Greyhound Racing Club, member of CSIRO Large Animal and Wildlife Animal Ethics Committee. His career has included teaching surgery at Murdoch University Veterinary School and National Institute of Animal Welfare ,New Delhi, India. Tim was part of the team managing Western Australia's response to Equine Influenza outbreak in 2007. A lifelong interest in bushwalking has lead to the expedition to Kilimanjaro.
Mount Kilimanjaro is a dormant volcano situated just south of the equator in Tanzania on the African continent. Its summit at 5894 metres is the highest point in Africa and as such, is attracting great interest from tourists around the world. Hundreds of tourists climb it every day during the dry seasons, and each visitor is accompanied by porters and guides.
This talk was about one such climb accomplished in July 2018 at the height of the tourist season and discusses trek preparation, clothing and nutrition requirements for altitude walking and mental preparation for extreme endeavours. See Tim's Presentation here.

---
May 21st., 2019
Ren Webb: Five Steps To An Energy-Efficient Home
We'd all like to pay lower energy bills! Ren Webb dramatically improved his home for little cost. Ren spent less than $4000 and took the energy efficiency rating of his 1970s Canberra home from 2 Stars to 6.9 Stars. With the addition of a solar system, his house now generates five times more energy than used by his family.

Ren is a technical officer with the ACT Government's Actsmart Sustainable Home Advice. He provides free advice to the Canberra community and delivers public workshops on a range of home sustainability topics. He will speak to us about improving a home's thermal performance, upgrading to high-efficiency electric appliances, moving off gas and switching to solar.
---
April 16th., 2019
Tony Patis: The University Of The Third Age (U3A)
U3A- the University of the Third Age- is an international movement which promotes and practises lifelong learning by providing low cost educational opportunities for older people.
At U3A Canberra, you can exercise your brain by participating in or leading a group and sharing your interests with others. No prior educational qualifications are required and you are not required to study long-term, as no certificates or degrees are awarded.
Tony Matis is Vice President of U3A Canberra.
---
February 19th., 2019
Jan Morgan: Confessions of an Arboretum Junkie
The National Arboretum Canberra features 94 forests of rare, endangered and symbolic trees from around Australia and the world. Many of the trees are still young but two of the forests are over 100 hundred years old. Over 44,000 trees from over 100 countries are growing across the huge 250 hectare (618 acre) site, making it one of the world's largest living collections of rare, endangered and significant trees.
Until 2012 Jan Morgan was only interested in trees because birds could be found in them. And when she eventually learnt about the National Arboretum in Canberra she was strongly opposed to it. Today she is a Member of the Council of the Friends of the Natiuonal Arboretum, and has recently been awarded their Volunteer Of The Year for 2018!
Jan's talk told us about about her conversion, and about how it has changed her life over the last six years. And about some of the fascinating people and stories she has encountered on the way. See Jan's presentation.
---
January 15th., 2019
Dr. Brad Tucker: The Past, Present and Future of Space in Australia
Australia was just the third country to send a satellite into orbit. After many years of official inaction, Australia has finally created it's own Australian Space Agency.
On New Year's Day, 2019, the New Horizons spacecraft will pass close by the Kuiper Belt object 2014 MU69. The flybywill be the most distant in the history of space exploration, a billion miles beyond Pluto.
Dr Brad Tucker is an Astrophysicist/Cosmologist, and currently a Research Fellow at the Research School of Astronomy and Astrophysics, Mt. Stromlo Observatory at the Australian National University. Visit Brad's web page
---
November 20th., 2018
John Jervis: The Towrang Convict Stockade in Goulburn
The Towrang Stockade was the major stockade for chain-bound convicts and others involved in the construction of the Great South Road, from around 1836 to 1842. The Stockade was the major penal settlement in southern New South Wales and enforced harsh discipline. Around 250 convicts slept there on bare boards with a blanket each and 10 men to a cell. One of the floggers was later murdered.

Near the site of the Stockade, there are the remains of the powder magazine next to the Wollondilly River, three graves on the north bank of Towrang Creek, and the remains of a weir on Towrang Creek built for the stockade. Aboriginal stone tools have also been found on the banks of Towrang Creek, indicating that this was a route well-travelled long before Hamilton Hume came this way in 1818.

Today it's located on the north side of the Hume Highway at Towrang Creek, about 11km north of Goulburn. On the opposite side of the Hume Highway, near the Derrick VC Rest Area, there is Towrang Creek Bridge, built by the convicts.
---
October 16th., 2018
Peter Gorton: The Future of the Car
Peter has a long history of involvement in the renewable energy and emerging technologies field.
He has been Chair of the ACT Branch of the Australian & New Zealand Solar Energy Society, an Austrralian Director of the International Solar Energy Society (past Secretary), and past Nartional Treasurer of the Australian Institute of Energy. He is a Member of the Institute of Company Directors, and the Alternative Energy Association (now renamed, Renew).
Peter was an early adopter of solar power, solar hot water, and rainwater recovery. He helped solar move from pioneering to mainstream. Along the way, he developed a strong interest in another emerging technology- electric vehicles.
Today, the growing penetration of electric vehicles, the development of autonomous vehicles and ride sharing are all combining in a revolution of what the motor car will become, and how we will use is. As an early adopter, Peter drives a BMW elwctric car, affectionately known as Ian.
View Pete;s presentation slides here.
---
September 18th., 2018
Kate Lehmensich: The My Health Record Program
By the end of 2018, a My Health Record will be created for every Australian, unless you choose not to have one. My Health Record provides for potentially lifesaving access to your key health information such as medications, allergies, and condition. You can share your health information with doctors, hospitals and other healthcare providers from anywhere, any time.

Kate Lehmansich's career includes working as an Enrolled Nurse at Canberra Hospital and the Red Cross. In recent years, Kate has been involved in health administration at the Australian College of Nursing. Using her strong engagement and people skills, Kate is working this year as the Community Engagement Officer at Capital Health Network, which is the Primary Health Network for the ACT. The focus of her role is to work locally on the My Health Record expansion program.
A Video Introduction to the My Health Record Program

Kate helped Members learn about the My Health Record Program. See her Presentation here.
---
August 21st., 2018
Chris Franks: International Aid, Or Look After Ourselves? Why Not Both?
Chris' passion for the international aid and development sector has resulted in thirty-five years of hands on volunteering to date in a multitude of roles. She is currently Chair of RESULTS Australia and immediate past Chair of Habitat for Humanity Australia and has served on boards and committees of Oxfam, Save the Children NSW, CUFA, Family Planning NSW as well as government and financial boards including NSW Kids & Families, CUA, Creditcorp and more. She is a Fellow of the Australian Institute of Company Directors with over eighteen years governance experience.
Chris' passion for the international aid and development sector has resulted in thirty-five years of hands on volunteering to date in a multitude of roles. She is currently Chair of RESULTS Australia and immediate past Chair of Habitat for Humanity Australia and has served on boards and committees of Oxfam, Save the Children NSW, CUFA, Family Planning NSW as well as government and financial boards including NSW Kids & Families, CUA, Creditcorp and more. She is a Fellow of the Australian Institute of Company Directors with over eighteen years governance experience.is also a strong champion of accountability, and believes our society is stronger, better managed and better governed with more women in leadership roles.

To that end she encourages, inspires and supports women to secure promotion and leadership roles as the founder and principal of the Women In Aid & Development network across Australia. Her objective is to increase the number of women in CEO and director roles in a female dominated sector. Chris was also a leader of the 2011 and 2013 Habitat Women's' Builds in Nepal working with divorced, widowed and abandoned women, alongside 100 women from corporate Australia.
Members who want to revisit Chris' talk, and those who missed it, can view her presentation here.
---
July 17th., 2018
Robyn Sykes: Writer, Poet, Entertainer
Robyn Sykes is a multi-award-winning poet and writer with a passion for entertaining audiences. Since winning the Australian Bush Poetry Championship (2012) and prestigious Golden Damper (2013) the versatile performer has enthralled audiences in Norfolk Island, King Island, New Zealand, WA, Qld, Vic, Tas, ACT, NSW and more.

"I love entertaining," the poet, farmer and writer said. "I love telling stories about people and their ups and downs, and I'm keen to share my work with groups like Probus."

The Binalong Bard has featured at numerous festivals including Boyup Brook and Tamworth Country Music Festivals, Turning Wave, Illawarra, Kangaroo Valley and National Folk Festivals and Kiama Folk by the Sea.

As President of Binalong Arts Group Inc, Robyn coordinated the hugely successful NSW Bush Poetry Championships in Binalong in 2014 and 2016. She was also on the organising committee for the Johnny Gilbert 150th anniversary re-enactment in 2015, which drew 2000 people to Binalong (pop 250).

'Voices of the Fire', Robyn's first book and CD, was a finalist in Australian Bush Laureate Awards 2014 for Album of the Year, Published Poem of the Year and Single of the Year. Her new book and CD, Thoughts, Rorts and Farming Sorts has just been released.
Visit Robyn's website (check out her video).
Photo: Margaret Rhodes
---
Tuesday June 19th.
Millie Sutherland Saines: The Woodlands & Wetlands Trust
Text about
---
May 15th. 2018
Rolfe Hartley: Sir John Monash. Engineer and Soldier.
Rolfe Hartley is a retired civil and environmental engineer with many years' experience in the management of large infrastructure and environmental projects. His experience includes senior positions in both the public and private sectors, including positions within the Department of Defence, and as a Defence contractor.
Rolfe was the President of Engineers Australia's Canberra Division in 1998 and the National President in 2007. He continues to be active in Engineers Australia affairs.
Rolfe grew up just down the road from the Australian War Memorial, and as a boy spent many hours there to fuel his strong interest in military history. In 2011 he fulfilled a long-standing ambition to become a volunteer guide at the Memorial.
As an engineer, soldier and citizen, John Monash is one of his great heroes and he has spoken frequently on Monash in engineering circles. Rolfe's talk is an update of a talk he delivered in 2015, when he gave the annual John Monash Oration in Jerilderie NSW. Monash's formative years were spent in Jetrilderie, and past Orations have been delivered by by Hon Tim Fischer, AC, Dame Marie Bashir, AD, CVO, former Governor of NSW, and Air Chief Marshal Angus Houston, AC, AFC (Ret'd).
---
April 17th. 2018
Geraldine Triffitt: Life In The Fijian Village Of 'Soso.
Geraldine is the Author of SoSo Village, Naviti Island, Fiji and SoSo Families, Naviti Island, Fiji.
Geraldine gave a personal description of the environment, natural history, history, daily life, ceremonies, language, social structure and change in the remote Fijian village of 'Soso on the island of Naviti, which she has visited regularly since 1976.
Geraldine's Powerpoint Presentation of 40 slides can be viewed here, and the matching text of her talk can be read here.
---
March 20th. 2018
Dennis Dyer: Pythons Of Australia.
Few people realise that Australia is the 'Land of Pythons', most thinking of elapid or venomous varieties when the word 'snake' is mentioned. The great variety of pythons in Australia will be illustrated and discussed together with their basic anatomy which enables them to fulfil their environmental functions.
Dennis's interest in reptiles, particularly pythons, goes back to his student days, and has continued since. Being a geologist in a field oriented profession reinforced his admiration of them, and hopes the Club Members gain some of that. Dennis has recently joined the Jamison Club, and has given this talk there.
Dennis currently keeps two Centralian Pythons at his home, and one (Ben) was brought to show the Members, and demonstrate its feeding technique.
Our thanks to Tom Anderson for shooting the video. Just click to watch.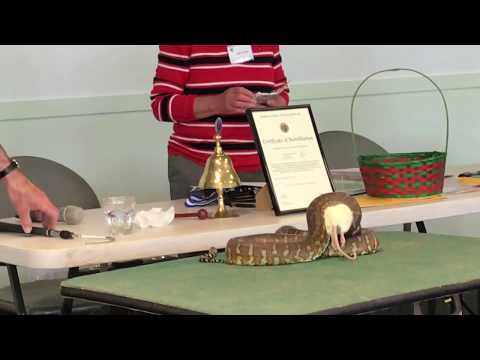 ---
As we go forward, we will keep a record here of the talks given to the Club.
If you have any ideas for suitable Guest Speakers, please contact our Speaker Seeker. You'll find them listed on the Committee page.